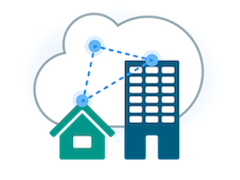 Run in the cloud and on premises
Many data analytics workloads can benefit from running in the cloud, as well as on premises.
QF2 operates both on premises and AWS, with the highest performance and best scalability of any file-based cloud offering. With QF2, cloud and on-prem clusters work together to provide scalable performance with a unified file storage fabric.
QF2 uses continuous replication to move data where it's needed, when it's needed. Continuous replication means customers can easily transfer data from their on-prem QF2 cluster to their QF2 cluster in AWS, perform their computations, and then transfer the results back to the on-prem storage.
The ability to run the same data analytics workflow in cloud and on-premises environments ensures consistency and reduces development costs. It also gives customers the ability to choose where they place their workloads based on business decisions rather than technical limitations.